Post 808 Update (November 2018)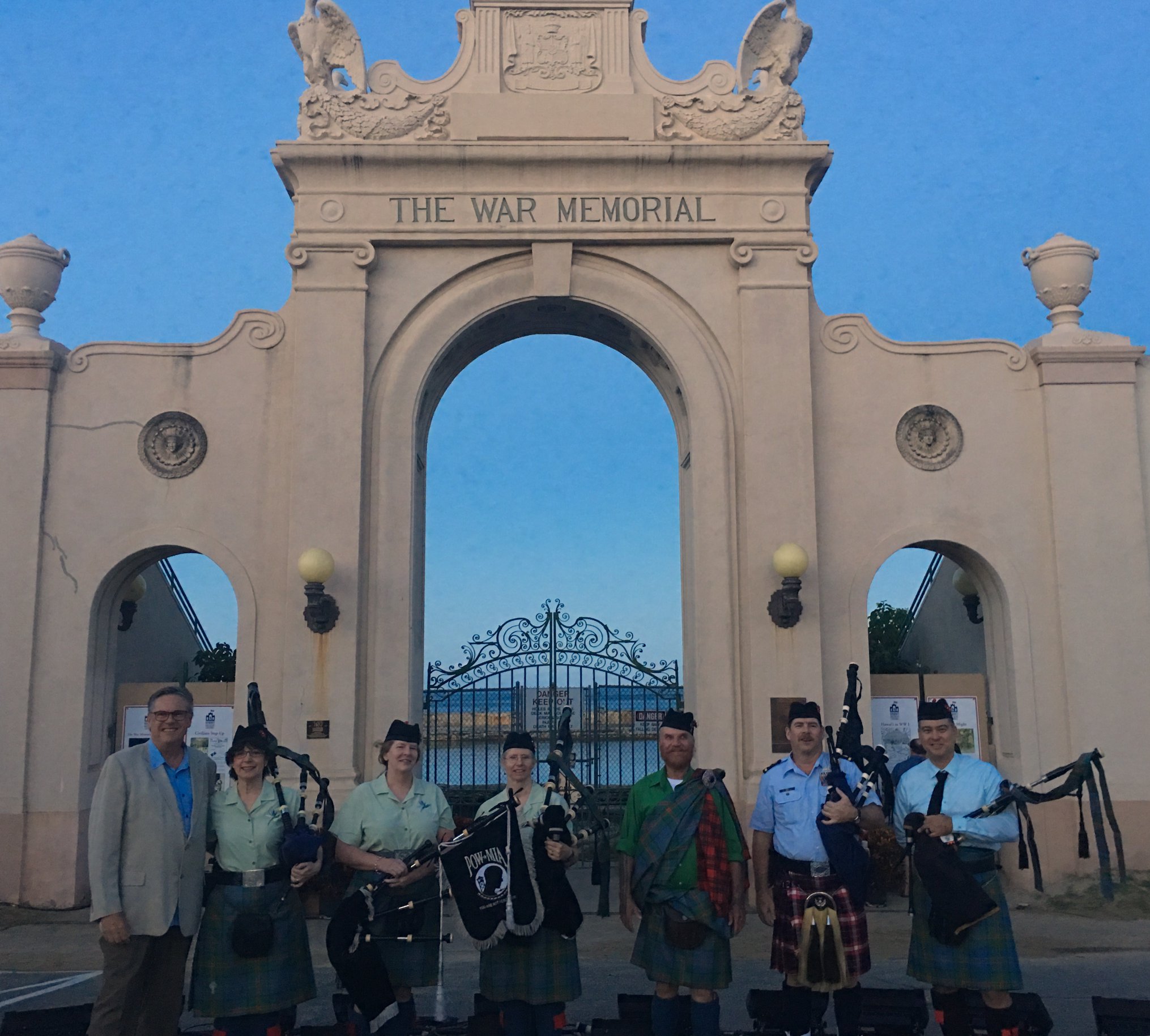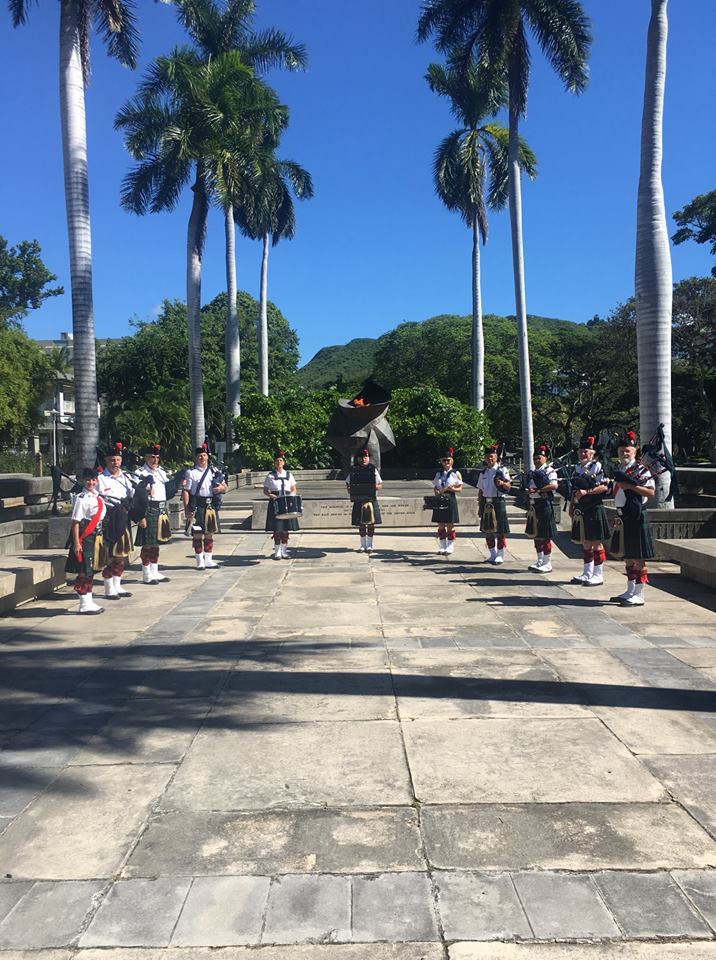 Piper Warren Cone with Celtic Kula at the War Memorial (left) and with Celtic Pipes and Drums of Hawaii
(photos courtesy Warren Cone)
Warren Cone: Pipers around the world played 'When the Battle's O'er' at 6 am in their time zones. We here in Hawaii would have been among the last to play. Officially the 6 am playing of Battle's O'er was not affiliated with any band. As it turned out I played that tune, and a few others with members of Celtic Kula. The photo shows us at the WWI Memorial. Left to right: John Bell (read the honors), Theresa Bell, Kim Greeley (wife of a former marine), Melanie Brown, Christopher (student of Kim), Warren Cone (wearing my Coast Guard Tropical Blue uniform with the Coast Guard Tartan kilt), Mark Reed (Celtic Kula, but also an Army Reservist). The Celtic Pipes and Drums of Hawaii played Battle's O'er and other tunes at the Eternal Flame across the street from the State Capitol at 11 am. Left to right: Tina Yap, Hardy Spoehr, Howard Lavy, Warren Cone, Lisa Gomes, Adolph 'Alf' Schnieder, Kristen McNab, Greg Kim, Pomaikai Wee, Frank Talamantes, and Dan Quinn. I also brought my flugelhorn along to play a British Army bugle call, 'The Last Post', and played that at both events.
Post 808 Update (May 2018)
PC Phillips reports: As the incoming commander for Princess V Ka`iulani, Post 808 Honolulu, Hawaii, this my first quarterly report. As of today we have 14 members on our roster. At the 37th Annual Hawaiian Scottish Festival and Highland Games, held April 7 & 8,2018 at McCoy Pavilion, Ala Moana Beach Park, Honolulu the membership nominated the following slate for election to board. Larry L. Phillips - Post Commander, Chuck Jamison - Adjutant and Webmaster, Amanda Hess - Quartermaster, Garth Hess - Historian and Genealogist, Primasita "Sita" Menor - Sergeant-at-arms. Vote was unanimous and the board was accepted as presented. The change of command ceremony is being planned with no date set as of yet.
My background is: I served in the Navy, am a Vietnam Vet, have retired from AT&T as a Maintenance Splicer(26 years), and U.S Postal Service retired Machine Mechanic(14 years).
I served as Vice president of the Golden Bear Chapter, Telephone Pioneers( a volunteer organization which serves the community), I have been the Vice-President of the Local Postal Workers Union. I am Past Chieftain of the Caledonian Society of Hawaii, and Past Chieftain of the Hawaiian Scottish Association. I believe in giving back to the community and hope as a Post we can be more involved with our local military and veterans. At the Hawaiian Scottish Festival and Highland Games, SAMS manned a table, with Amanda Hess, Sita Menor, Chuck Jamison, and Mike Medeiros spreading the word. We also were the Color Guard for the opening ceremonies for both days. We are looking at establishing a Color Guard for performing at the Military and local events here in Hawaii. The month of May is a busy time with all the JROTC Award Presentations: JROTC SAMS Awards were presented at the following High Schools: Leilehua, Farrington, Kaiser, Castle, Waianae, Punahou, Waipahu, Radford and Mililani all on Oahu. Waimea on Kauai E.J. King at Sasebo, Japan.
Post 808 Update (April 2018)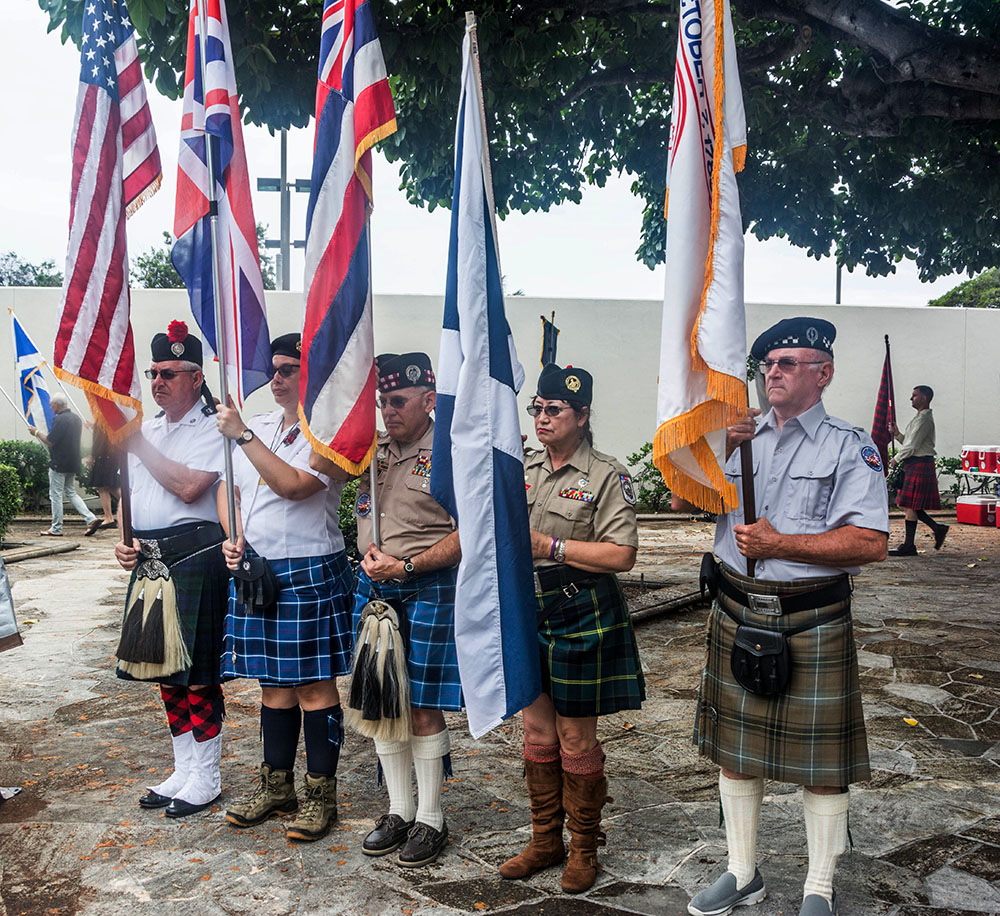 Color Guard - Chuck Jamison, Amanda Hess, Mike Mederios, Sita Menor, Larry Phillips at the Scottish Games 4/8/2018
(photo courtesy Audrey Black)
We are starting 2018 with our continual support of the JROTC program, not only in Hawaii, but in the Far East as well. King High School in Sasebo, Japan was one of the recipients of our SAMS medal. In Hawaii, the following schools have been provided awards with the presentations planned within the next few weeks:
Waianae High School (Army)
Kaiser High (Air Force)
Admiral Radford High (Navy)
Mililani High School (Army)
Leilehua High (Army)
Waimea High on Kauai island (Army)
Castle High (Marine Corps)
Farrington High (Army)
Kalaheo HIgh (Air Force)
Punahou High (Army)
There are several schools which are not aware of our program, so we are contacting them this year, as well as schools on Hawaii Island, and Maui.

Our post charter was instituted in 1985. Our post consists of a nice mixture of veterans representing the Army, Navy, Coast Guard, Air Force and Marine Corps, as well as the National Guard.
Our post was renamed to Princess Victoria Ka'iulani Post 808 to commemorate the Hawaiian Scottish heritage of our former monarchy and a post patch was designed by Amanda Hess and instituted to members in 2017.
Future prospects for our post include the formation of a genealogy section to enhance the heritage of members of Post 808. We look forward to our first meeting called by our new post commander, Larry Phillips in the near future, where a formal change of command will commence.
We will become the official color guard for future highland games for the Hawaiian Scottish Association, beginning in 2018.
Post 808 Update (May 2017)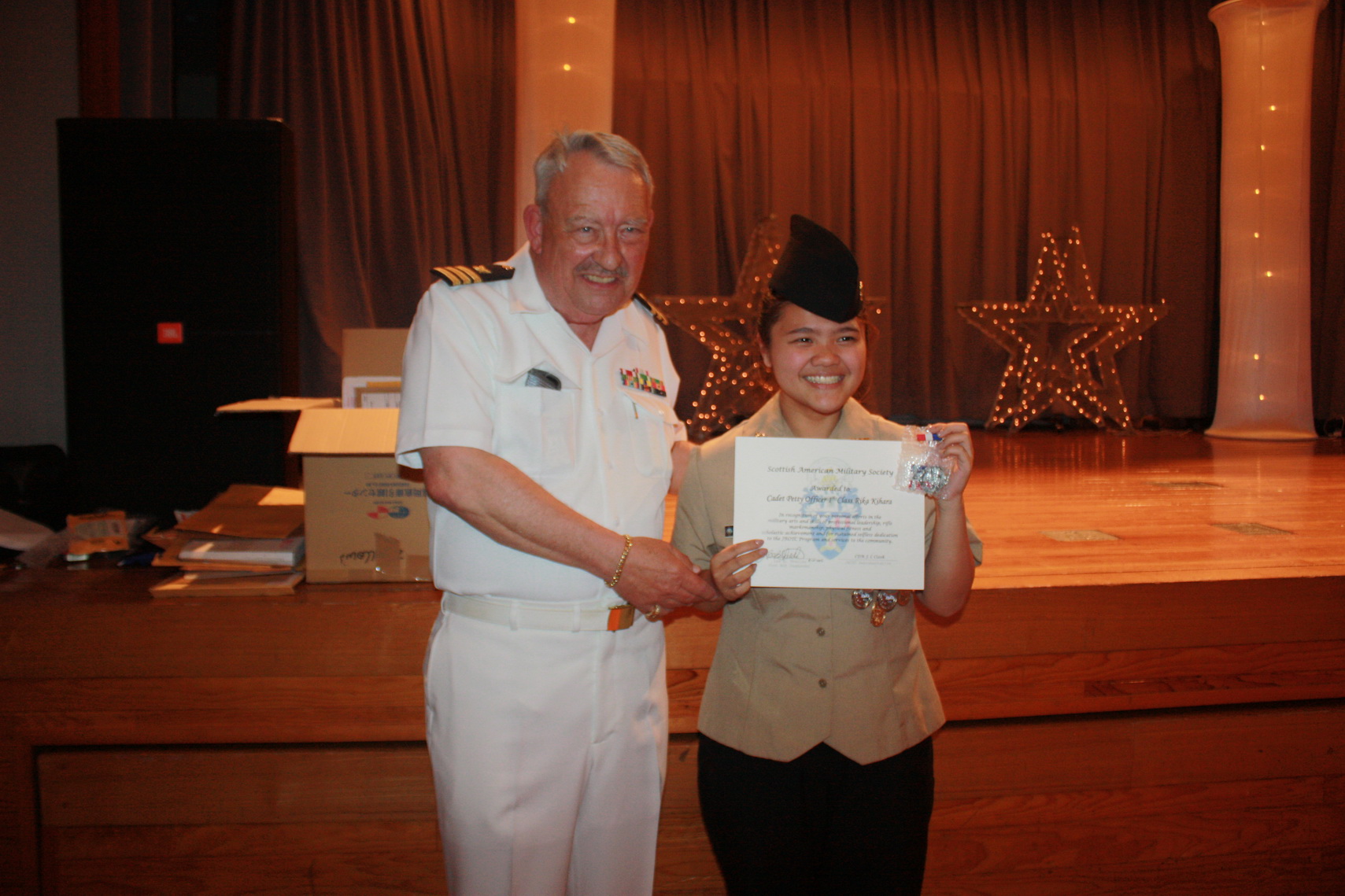 Cadet Petty Officer first Class Rika Kihara receiving the SAMS JROTC award at our awards banquet at E. J. King HS in Sasebo, Japan on May 23, 2017
Post 808 Update (April 2017)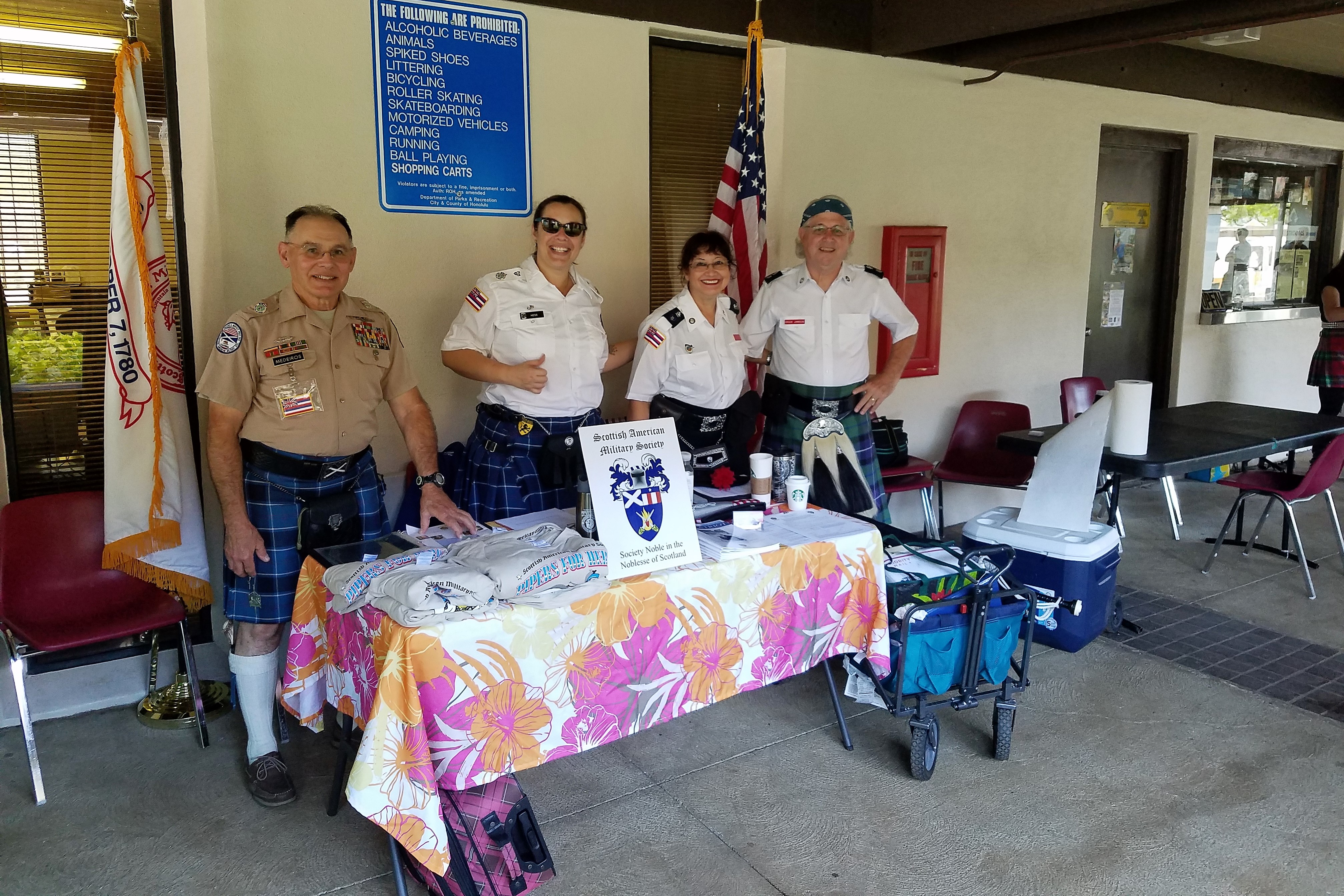 Mike Medeiros, Amanda Hess, Sita Menor, and Chuck Jamison at the SAMS Table at the Scottish Games in April.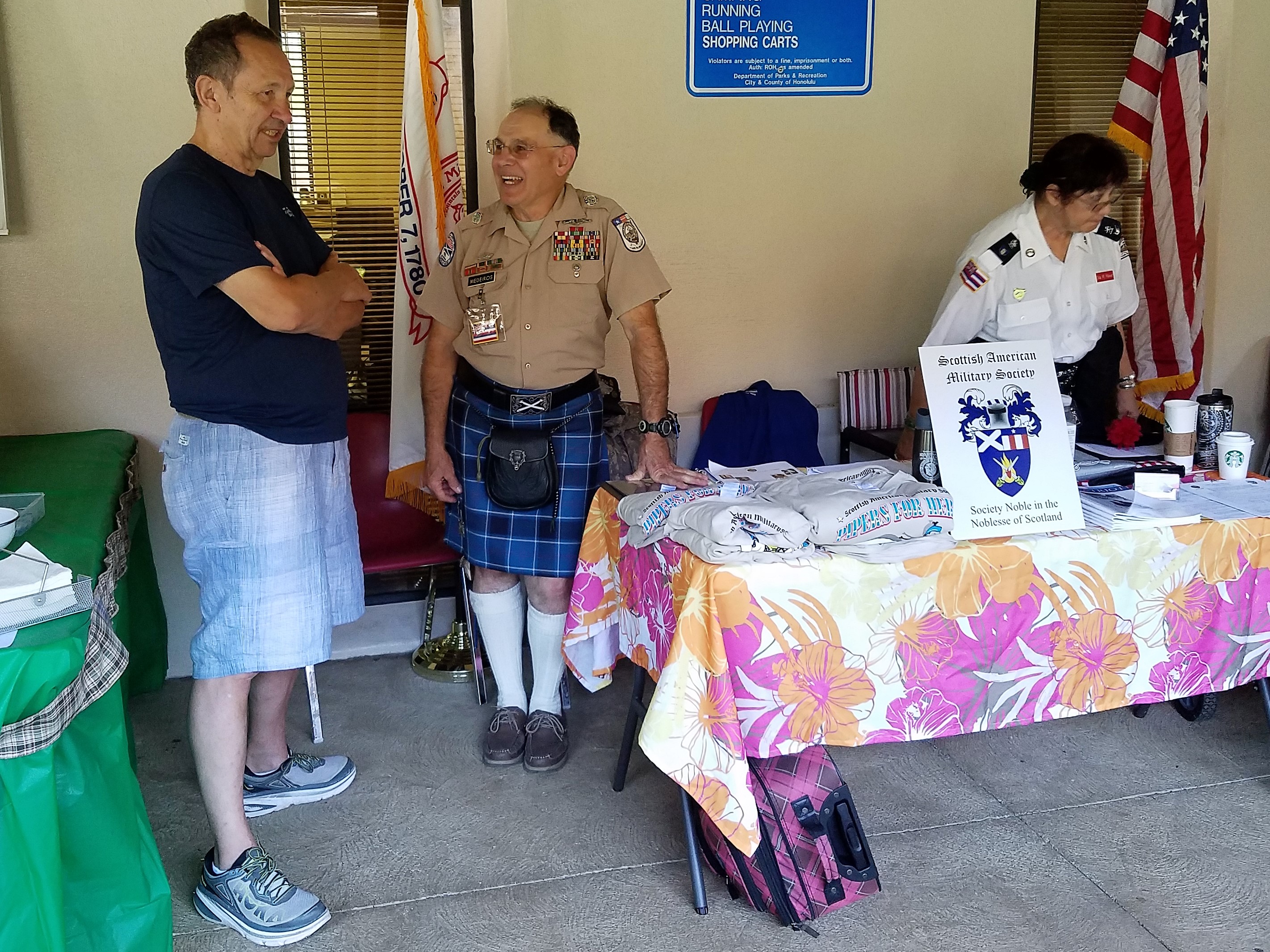 Primasita (Sita) MacGregor Menor was the founding commander of Post 808 in the Hawaiian Islands. She is a retired Army veteran who served in the Women's Army Corps (WAC) during the last days of the Vietnam War. On dissolution of the WAC, Sita moved to the Ordnance Corps where she served as one of the first female ammunition specialists in the Army. She and the other 4 women who preceded her in the ammunition school were honor graduates. She transferred to the Hawaii Army National Guard in 1984 and served as the Administrative Assistant to the Adjutant General for the State of Hawaii. She retired from the National Guard after 22 years of service.
She is currently retired with a combined Federal career of 40 years. Formerly a tenor drummer in the Celtic Pipes & Drums of Hawaii, she has been very active in volunteer work with wounded Soldiers in transition from the Army to civilian life.
She now living in Colorado but planning to move to Florida. She will be supporting the post and the band whenever she can visit. She attended Hawaii Pacific University and University of Hawaii-Manoa (B.S, in Business Management), as well as the University of North Carolina Kenan-Flagler Business School.
Post 808 Update (April 2012)
SAMS Post 808 supported five high schools this year with SAMS representation
.
Kaiser High School AF JROTC Precision Drill Team at their annual awards ceremony conducted at the Kanehoe Marine Base Officer's Club.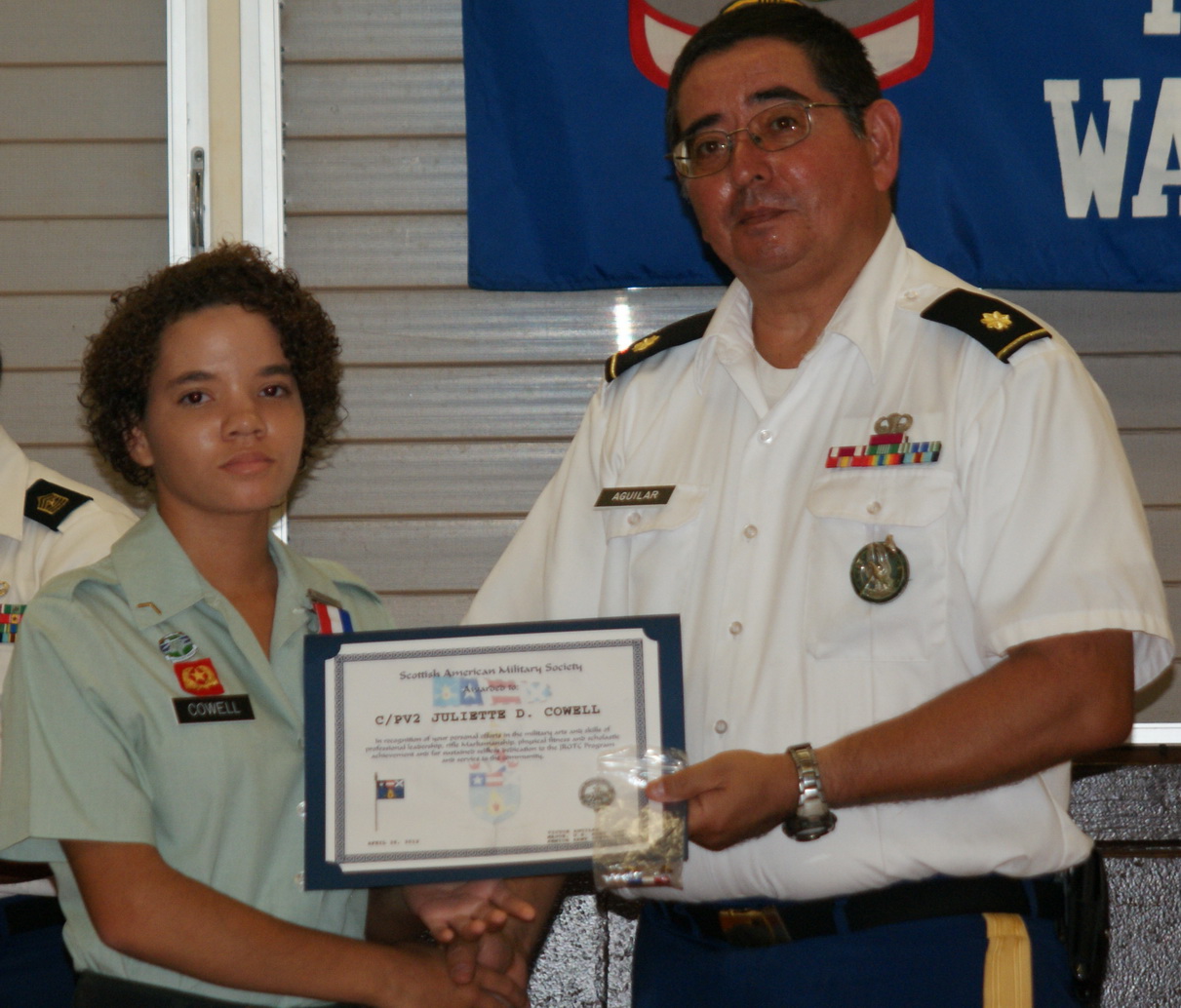 Juliet Cowell, Army JROTC from Waimea High School on the Big Island receiving her SAMS award.
Navy Vietnam Veteran recognized
The Celtic Pipes and Drums of Hawaii and SAMS members Howard Lavy and Sita Menor, played in a ceremony honoring a Navy Vietnam Veteran who died on the USS Ranger in 1962 during the Vietnam Conflict. It took 46 years for his name to be placed on the Wall in DC and now on the Vietnam Veteran's Memorial Obelisk at Haleiwa Beach Park on Oahu's North Shore. This was a special event for both the band and SAMS members as we honored this Navy Airman. His friend Ben Ishida fought government red tape for 46 years to get his friend the recognition he deserved.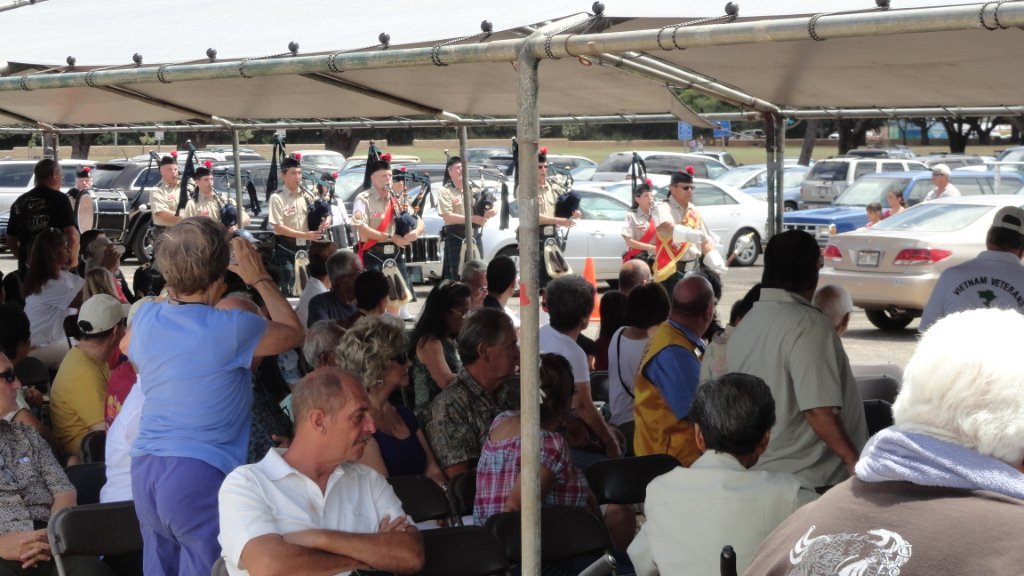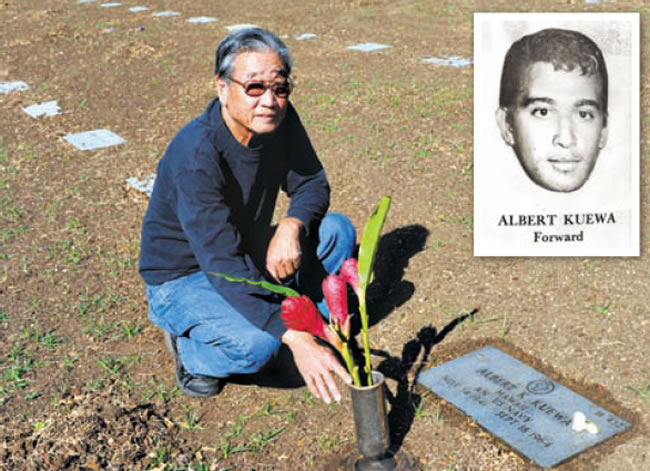 Post 808 Update (July 2011)
Presidential Unit Citation Recognizes 1/27th Wolfhound Gallantry in Vietnam
Post 808's newest S.A.M.S. member, retired Army Lieutenant Colonel Howard Lavy was responsible for obtaining a Presidential Unit Citation (PUC) for his former unit, Company A, 1st Battalion, 27th Infantry Regiment, 2d Brigade Combat Team, 25th Infantry Division for service in combat 45 years ago in the jungles of South Vietnam.  In an interview with the 2d BCT Public Affairs Office, retired Command Sergeant Major Leonard Letoto, who was a former first sergeant for the unit tells the story: ""We entered an area (of Vietnam) called Ho Bo Woods with 92 guys. … We left with 32 wounded, and sustained 56 casualties. … It was one of the toughest days, I ever had to serve."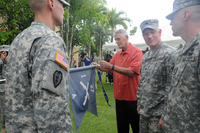 Retired Lt. Col. Howard Lavy (center), Co. A, 1st Bn., 27th Inf. Regt., 2nd BCT, 25th ID, ties the PUC to the guidon during a ceremony held at Schofield Barracks, July 8. SCHOFIELD BARRACKS —
The award recognizes the actions of the company and honors the veterans who endured through the battle near Ho Bo Woods and honors all previously unrecognized Wolfhound Soldiers to fought in that battle for A Company in Vietnam.
Retired Lt. Col. Howard Lavy was one of the nine veterans in attendance and helped lead the drive to recognize the unit for its actions on the battlefield.
"We are finally able to recognize the valor and gallantry of the unit, and that's what it's all about," he said. "It's not me or anyone else; it's the unit and we all fought together. … Many of us died together, (were) wounded together, (so we) banded together and were able to endure."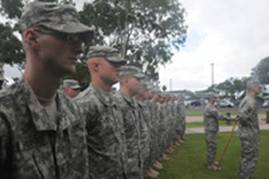 Soldiers from Co. A, 1st Bn., 27th Inf. Regt., 2nd BCT, 25th ID, stand at ease during the PUC ceremony. They listened to veterans retelling the story about the battle at Ho Bo Woods, Vietnam, fought July 19, 1966. Retired Col. Walter Kaneakua, of Hawaii Senator Daniel Inouye's Office, presented the award, almost 45 years to the day of the initial battle fought July 19, 1966.
"It was originally a search and destroy mission," Letoto said. "Once we moved into the area and sent in the first platoon, things quickly picked up and it became a tough battle."
Present day Soldiers taking part in the ceremony see the recognition of their past brothers-in-arms.
"It's a real honor to be in a ceremony that recognized our past Wolfhound brothers," said Staff Sgt. Lucas Collins, squad leader, Co. A. "Those guys went above and beyond what was asked of them in Vietnam, and it's rewarding to see them get recognized. … It really makes me proud to be here today."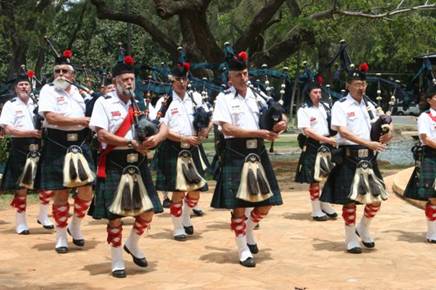 LTC(ret) Lavy, center  is a member of the Celtic Pipes & Drums of Hawaii.
While that was a good news story, the same battalion, suffered personnel losses in Afghanistan, recently.  I attended and played in the memorial service for five fallen Soldiers of  1st Battalion, 27th Infantry (Wolfhounds) conducted a memorial ceremony, inscribing the names of five members recently lost in battle.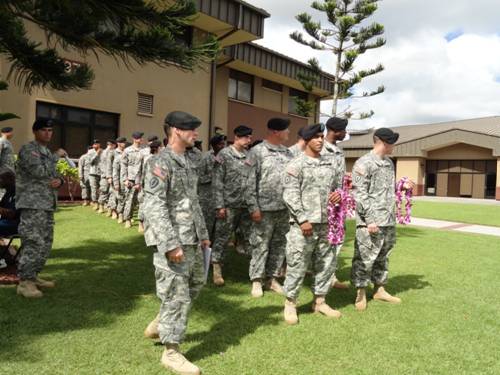 Soldiers of the 1/27th Infantry, 25th ID (SBCT) prepare to present leis to family members of their fallen comrades, July 15, 2011.
More photos at Easy Smith's Album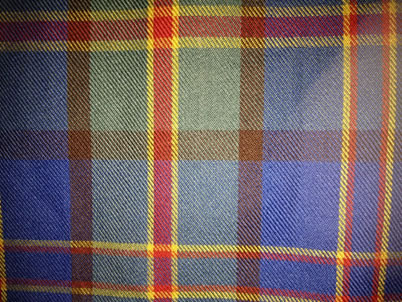 Hawaii's Own Tartan
By Sita MacGregor Menor, Post 808
A contest sponsored by The Caledonian Society of Hawaii during the 1997 Hawaiian Scottish Games resulted in Douglas Herring's winning design of the Hawaii Tartan. In 2008, the Hawaii State Legislature passed a resolution designating April 6 of each year as "Tartan Day" to recognize the Hawaii State Tartan.
The tartan is registered in Scotland with the official Scottish Tartans Authority as the Hawaiian Tartan; complete with the International Tartan Index number, 5163, under the American State Tartan category. 
According to designer Douglas Herring, the inspiration for the tartan began with an idea of a blue-green pattern.  According to Doug, the blue color represent the ocean and the sky, the green represent the islands' foliage, and brown stripes represent the distinctive red and brown earth tones of the Hawaiian soil. Additionally, the brown stripe symbolizes the rich multi-cultural heritage which remains a prominent feature of our "Aloha State.  Red and yellow colors represent both fire and lava which formed the Hawaiian Islands.  They also honor the Hawaiian Ali'i (the chiefs and royalty of the former monarchy).
The Hawaii Tartan is intended to be worn by anyone who is Scottish at heart.  Hamish Douglas of Maui Celtic was instrumental in bringing the manufacture of the Hawaii Tartan to fruition.  Hamish is Hawaii's primary supplier of Hawaii Tartan scarves and accessories.  The tartan can be ordered from Maui Celtic; however, it is also made in kilt-weight wool by Bill James of the Celtic Craft Centre, kilt makers in Scotland.